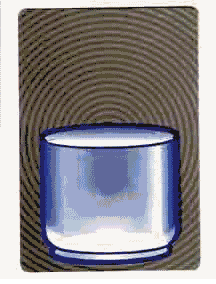 This is a novel rising card effect.  Performer displays an ordinary deck of cards, which can be examined and shuffled.  A card is freely selected from the deck, and may be signed if you wish.  
Performer now explains that the normal rising card routine involves placing the deck in a glass tumbler, and commanding the selected card to rise.  Unfortunately, glass tumblers are extremely fragile, and he is fed up with the dozens of broken tumblers in his bag of props.  He has therefore made a few minor modifications to the original trick.  
Performer now displays a Jumbo card, with a picture of a glass tumbler, stating he now uses a tumbler which is easier to pack, and guaranteed not to break.  The deck of cards is now placed on the large card depicting the tumbler, as the performer attempts to capture the image of the deck in the tumbler. The deck is tipped off the large card, and when the card is displayed, there is now an image of the deck of cards inside the tumbler.  
The performer now asks the spectator to name his selected card, and command it to rise from the deck.  As the spectator does this, a card is seen to rise from the picture of the deck in the tumbler.  As it rises, it is clearly seen to be the selected card, complete with signature.  The card can be pulled out of the "printed" deck, and given for examination, and the large card with the picture freely displayed on both sides.  
This is our new model of the item, attractively offset printed and laminated, for additional durability. Use it with any deck of cards (Bridge or Poker size).