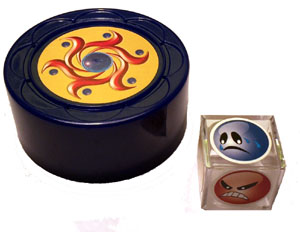 A plastic model of our HOT selling Super Mental Die
Effect : A plastic die with 3 different colors or facial expressions is placed in an opaque box, and handed to the performer behind his back. The performer reveals the colour on top of the die.
Although similar to items like Color Vision in effect, this is miles ahead in method – the performer does not bring the box to the front, or secretly look into it. There is no guess work or ambiguity about the color – the performer reveals the color that is on top.
Complete with instructions, ready to use, with just a few handling trials.