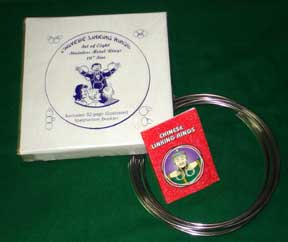 We make several models of Linking Rings, in various sizes. The iron plated models are economical, but have a limited life, as the plating will flake, and the rings with rust over time. The Stainless Steel models prove more than twice as expensive.
We have now produced rings in a stainless metal, that will not rust, and has no flaking problems. It gives you the long life of SS rings, at a much more economical cost.
Available in two sizes (8″ and 10″ diameter), made from solid rod about 5 mm dia, each set is a standard set of 8 rings. In effect, 8 separate rings magically link and un-link in chains and patterns, –  a classic effect that has survived over the centuries, and is part of many award winning acts.
With each set you get our Linking Ring Tutor – a printed illustrated booklet of 32 pages with 37 illustrations, that takes you step-by-step through all the moves, and four complete routines using 3, 4, 6, and all 8 rings.