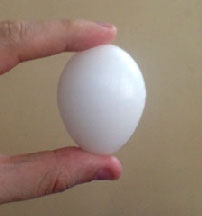 These are imitation plastic eggs about 2 inches in size. The Eggs are made of solid plastic and are not hollow inside and will not easily break or damage if dropped or misused and last much longer than painted wooden eggs.
They have the weight, look and feel of a real egg. Use it with Egg bags, Change Bags or produce them from your mouth or thin air or for any effect requiring an imitation Egg.
Also available : Plastic Eggs – Solid Small which are identical to above, but slightly smaller in size (1.75″) , and are more suitable for performers with small hands, kid performers, and for uses like production from the mouth.