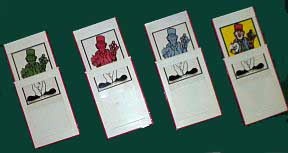 Effect : The performer displays a large frame with a picture of a black and white line drawing of a clown.
He asks the audience to name their favorite color. RED they say ! Performer pulls the picture out of the frame, and it is seen colored in Red  as it emerges from the frame.
The picture is pushed back into the frame, where it changes back to a black and white line drawing. The audience is asked to call another color, – BLUE they say, and when the picture is pulled out of the frame, the clown is now colored in Blue !
This is repeated – the next choice of the audience being GREEN – and now the clown emerges in GREEN.
Finally the performer says this could carry on all day, so he will attire the clown in all the different colors . When the clown now emerges from the frame, it is colored in a variety of colors.
The specially constructed Frame supplied is self contained, and does it all for you. It is made of plastic sheet which will outlast board or paper props, and with a little care will last your lifetime.
The Colorful Clown is the creation of Magician Tora of Iran (who market it as the Soomer Picture Frame). It is made and marketed by Funtime Innovations Pvt. Ltd. with their permission.