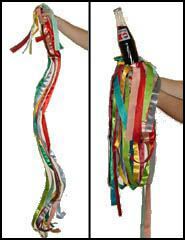 Carnival Ribbons, originated by Ian Adair in 1959 has become an all-round classic in the acts of famous magicians.  Because the apparatus is self-contained and without requiring body loads, it became a great favourite with both male and female performers featuring doves.
This model is approved by Ian Adair who has granted Funtime of India rights for manufacturing.
Effect: : A bunch of coloured ribbons, swished in the air, when shaken, produces a live dove.
Alternatively, the lengths of coloured ribbons may be magically produced from a piece of apparatus and then, as an afterthought, a live dove materialises from them.
Although originally designed to produce a dove, you could just as easily use this to produce a bottle of soda or beer, a very large number of silks, or a bunch of real flowers.
Easy to do, this comes ready to use with Ian's own instructions. You provide the production item.
Available in 2 sizes – Standard and Large
This large model can be used to produce larger items like a large pigeon, beer bottle or a large bouquet of feather flowers. A self contained production item, made with ribbons 1″ wide, and over four  feet long.