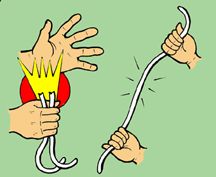 This is a Gimmick designed to add a dramatic flash to your magic routines.
The next time you cut and restore a rope, or fuse torn pieces of paper into the complete piece, or cause the torn corner of a card to weld to the original card, you can have this happen with a dramatic flash that adds greatly to the visual impact of the magic. Pass your hand over an empty production prop, there is a flash and the prop overflows with flowers and silks and doves, and ….
Pour loose links into a glass tumbler, – flash and the links are welded in a chain. The uses are limited by your imagination, when you use the Gimmick. You will find a place for it in your act, whether close up or stage.
This is a sturdy metal gimmick, designed to be used with flash paper or flash wool, (which is not supplied, and not sold by us). It can be used as a finger clipped gimmick, or a pull. Supplied with detailed instructions for handling and use.