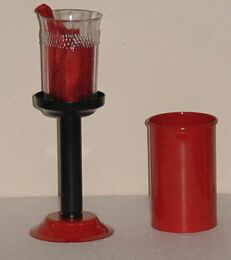 The Handkerchief Pedestal is a classic prop for the production of a handkerchief in a clear glass tumbler. The effect can be found detailed in many magic text books.
We have now produced a deluxe version of this utility prop, made in spun metal, and powder coated to give you a life long scratch free and very attractive piece of apparatus.
In effect a clear glass is placed on a skeleton pedestal. The glass is covered with an empty cylinder, (which could be examined if you wished). When the cylinder is lifted away a silk (which has been previously vanished) appears inside the clear glass tumbler.
The pedestal we supply measures about 6.5″ high and 3.75″ at the base. The clear glass tumbler is 2.75″ in diameter and 4.5″ high. The cylinder is 3″ in diameter, and 5″ high. The item is supplied complete with instructions Besides handkerchiefs, this can be used for a sponge ball routine, or even a "Bill Tube" type of effect, where a borrowed signed bill vanishes from a spectator's hand, and appears in the empty glass.