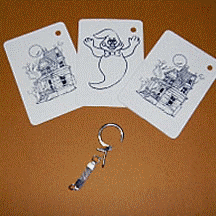 Another novel packet trick, from this most prolific creator of practical magic, with an appealing theme.
The performer displays three cards. Two of these have pictures of a Haunted House, and one of the Ghost that lives in them ..
All the cards have a hole in one corner, permitting them to be "locked" together.
The ghost card is placed between the two Haunted Houses, and all three cards locked together with a key chain. The magician snaps his fingers, and the Ghost has vanished from between the two cards, and appears from the performer's pocket,
Easy to do, this comes to you complete with the required cards, Key Chain, and complete routine.
A novel effect, at a very affordable price.