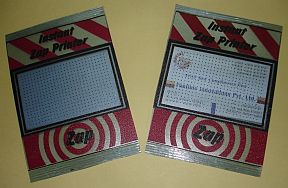 A clear flat folder that will "print" or change a playing card or business card, instantly, and visibly, with a flick of your finger. Place a blank card in the folder, flick, and it's your visiting card, which you hand out – an impressive and magical way to produce one. 
Use it to capture the image of a selected card on a blank card, or change the wrong prediction card to the correct one. Or use it as a magic "polaroid" camera, and take funny pictures of your spectators. 
A prop with dozens of novel uses, at a very low affordable price.
Introduced several years ago, this had been out of stock for a considerable time. We have now remade the item, with a special discount on bulk purchase. Easy to do, and complete with ideas for its use.