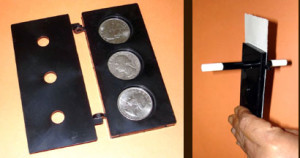 Effect :- A magic wand (or a borrowed pencil or Biro pen) penetrates through three borrowed coins.
We supply you a special plastic frame with cover and a small magic wand. Three borrowed coins are placed in three circular grooves in the frame, covered by a strip of paper, and the cover of the frame closed to lock the coins in the frame. The wand is then made to penetrate right through the "trapped" coins (going through holes in the cover and frame). After the penetration, the cover is opened to reveal holes have been punched in the paper strip, but the coins are completely unharmed.
Instead of the Wand supplied you can also use a borrowed pencil or slim ball pen.
A mechanical item, that only requires a few handling trials, this is an intriguing penetration effect, at a very low price.