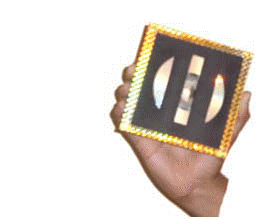 Performer places a silver colored CD in a frame with a cut-out which the audience can see right through. The CD is placed in the frame, and the silver color of the CD can be seen both front and back. With a snap of his fingers the magician instantly and visibly causes the CD to change color. The CD is removed from the frame, now in an entirely different color. This is repeated with two other silver CDs which are visibly changed to two other colors. 
The props are made with real CDs (Compact Disks) which are very popular today. This effect is similar to the popular Color Changing Records, but works on a different principle. The compact size enables you to handle the change in a very snappy and effective manner. 
Comes to you complete with special mechanical case, required CDs and instructions.