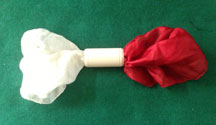 The Dye Tube is a gimmick that allows you to change the color of an ordinary silk passed through your hand (or a roll of paper).
The Versatile Dye Tube is turned from solid metal, measures some 2.3″ long and 1.1″ in diameter, and will allow you to change the color of a fine 12″ silk, while passing it through your apparently bare hands, and permit you to show your hand empty after the change. 
Besides the bare hand use, it can also be used in a roll of ordinary paper to change the color of a silk, as in the silk blow effect, or as a handkerchief pull for vanishing a silk..
This is not a cheap plastic model, but a professionally made metal model, with weighted sliding partition and leather washer to prevent snagging of the silk. It is supplied with 5 pages of illustrated instructions and ideas for use.
A professional gimmick, for performers requiring a quality prop.