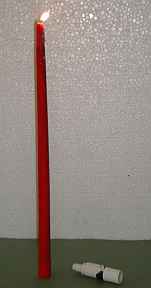 This is the perfect complement to the Stainless Steel Powder coated Appearing candle above. Although the Vanishing Candles are not a new magic prop, this model made from stainless steel and powder coated is far superior to plastic models previously available, which we also have. The superior temper of the metal prop eliminates the problems associated with the plastic model. You can also use a silk, feather spray or other similar insert with this prop because of the stronger spring action. These candles will outlast plastic candles several times over.
As the model prior to Vanish exactly resembles the SS PC Appearing Candle, you can pick this up and vanish it. Then later you can apparently reproduce the same candle from some place else. 
We have used a real candle piece to fuel the lit feature, instead of the usual petrol tank for its various advantages. The biggest problem with a petrol tank with wick is that the petrol tends to evaporate very fast, and if dry the candle will not light. You need to fill this tank just before every show. With a real candle these problems are completely eliminated. A candle piece is good for several shows, and when required can be very easily replaced. Once fitted, you do not have to bother as this will be good for several shows. 
You can have the candle lit for some purpose, (for example to burn an envelope in a Just Chance type effect), then pick up the candle and vanish it.
We have the item available in RED or WHITE. Please specify which color is required at the time of ordering.