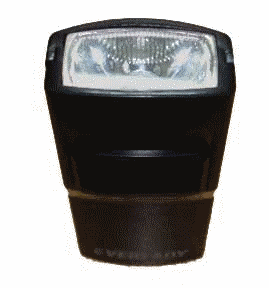 Basically this is a pocket torch, which works in the normal way. You can give it to a spectator for examination, and he can switch it off and on like any torch.
However, the torch can also be switched on and off secretly by the performer without touching it whenever he so wishes.
The earliest recorded reference for this effect is by E. W. Bud Morris, who described the idea in his "Magic With Electronics" (1973) as the Brain Wave Lamp. The earliest commercial version was Bob Ostin's Beam Shot marketed by Ken Brooke in the mid 1970's with subsequent versions under various names like Laser Light. We have also marketed different models over the past 30 years through our Magic Service, as Spook Light, with a few extra features incorporated in every subsequent model.
This, our latest model incorporates some of the latest technology to give you more features, and permits you to do all the previous models could, and much more.
* A super bright LED is used to replace the regular torch bulb, giving you several hundred times more service. It will last the life of the torch. It also uses far less current, and gives you much greater "mileage" on every set of batteries.
* Superior, stronger and smaller Neodymium Magnets enable the range to be extended, far beyond the capabilities of all the earlier models.
*  The application of poarisled switches (first introduced by us in this prop some decades ago) now enables us to extend the range by more than four times the normal range possible with just a reed switch, permitting you to control the torch from several inches away (instead of the less than an inch in earlier models), and operate it through any non magnetic table, or even a spectator's hand. This greatly enhances the scope of this prop, to presentations not possible earlier.
The uses of the prop are only limited by your imagination, but we give several ideas in the instruction as a starting point. Whether you do Bizarre Magic, or Magic with a Sci-Fi theme, or Mentalism, or any other type of presentation, you will find this a very usable prop to add to your bag of tricks.