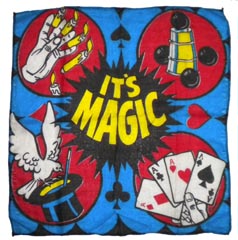 Magic with Silks is colorful and appealing for any audience. Silks make ideal production items, compressing into a small place, and making a large colorful display when produced. Use them with your Silk Wonder Box, Mirror Box, Fold Flat Production Box, Change Bags, or other Production prop or cabinet or even your bare hands.
This has been one of our most popular series for many years. We have reintroduced these production hanks in Ultra Fine Silks. A little more expensive than our regular production silks, but much better and finer quality, and very durable. Produced in an 18″ size with special art work created for us by the famous magician cartoonist Ed Harris, these "silks" are produced in five or more colors.
Everybody interested in Magic will have his own favorite way for using these Silks. Some uses are from standard production props like Wonder Boxes, Jap Boxes, Mirror Boxes, Production Mats, Square Circles, Hollow Wands, "Empty" Boxes, Tubes, and Tins, Paper Cones, etc.., etc.
These Silks are also ideal for several transformation effects, like Vanishing Canes, and Candles, or transformation of Doves, Flowers, Gloves, Billiard Balls and other magical odds and ends to Silks!
One very appealing production is a Bare hand one, where the performer shows his hands empty, flicks his hand, and a silk appears at his finger tips ! Or perhaps, he nips the flame off a lighted candle, and there is a silk between his fingers. Again there is no dearth of methods for Bare Hand Productions, and any magician can find several methods for this in any standards Magic Text Book.
A wide range of varieties and designs are available to suit your requirements which depict a message, with an appropriate picture to convey "Happy Birthday", "Merry Christmas", "It's Magic", "Welcome" and "Thank You"  – and will find application in dozens of Magic effects.
A gorgeous multicolored silk- the "It's Magic" will make a fitting climax from any standard production prop, at any time in your act.