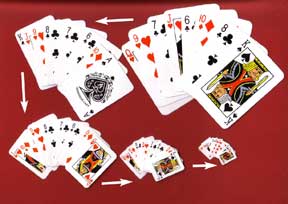 Effect : A fan of regular size cards repeatedly diminishes several times to half, then a quarter, then one eighth, and finally one sixteenth the original size. It then vanishes altogether. 
Although there are many variations of this classic effect, the special cards and gimmicks supplied make this a very easy and effective routine to perform.
We supply five different sizes of cards with the gimmicks, that make this effect so easy to perform. No sleights or difficult moves, – just handle the item a few times, and you are ready to present this.
In this version, you use more cards than most of the usual Diminishing Card sets, and the cards are not stitched or fixed together. Every card can be counted and individually displayed. As tricks of this nature get "thumb sore" with use, these cards are laminated for extra life, and can be wiped clean easily with a damp cloth. 
A clean version of a classic effect at a very reasonable price.