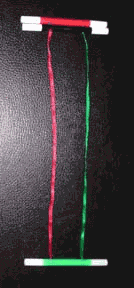 You display two different colored ribbons fixed on two wands of two similar colors. A Black Wand is threaded on the ribbons, and can be pulled along the ribbons from one wand to the other. As you pull the black Wand, the ribbons will magically transpose from one side of the wand to the other. Pull the black wand from the top wand right to the bottom. Then turn the wands, bringing the wand at the bottom to the top and repeat as often as you like. 
An oldie, that is more of a novelty than a magic effect, and looks good with the wands. Same wands as above .. 
Available in dozens or gross bags at a special savings.