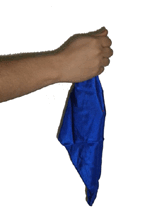 This is the classic color changing handkerchief. A silk handkerchief when passed through the hand changes color.
This can be repeated by turning the color back to the original, and back again, as often as you wish. 
Made of superior quality pure super silk, these handkerchiefs measure approx. 11 inches square and 14″ diagonally.