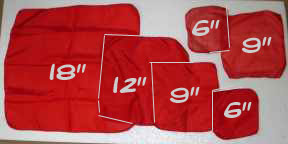 We sell several types and sizes of silks, with the smaller sizes in packets of a dozen in assorted colors. We regularly receive queries for only RED silks which seem to be specially popular with magicians, so we have added these to our range in two qualities, and various sizes as below. Please note that all sizes are approximate, and may vary slightly due to the hemming of the silks.
Thumb Tip Silks 6″ Red – in dozen packets only – this is a very fine quality silk, which will easily fit in any thumb tip. It is our most economical silk, as it is produced as a byproduct of our larger silks, and comes to you at a bargain price on the dozen. Ideal for use with small production boxes like the Silk Wonder Box, which will hold several of these silks.
Thumb Tip Silks 9″ Red – in dozen packets only – This is similar to above fine quality, in a size 9″ square. It will also fit in most regular thumb tips.
Super Silks : 6″, 9″ & 12″ (RED – Dozens only) – We have also produced the red silks in a superior heavy quality silk, identical to our assorted super silks. They are available in dozen packets only, in sizes of 6″, 9″ and 12″ square.
Super Silks 18″ & 24″ (Red – Each) – Also available in singles (or as many as you wish) are RED super silks in 18″ & 24″ sizes.