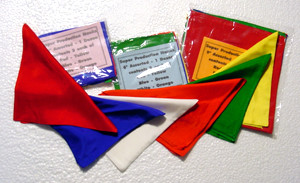 Silks are indispensable for magicians who like visual and colorful magic, for effects like the classic Sympathetic Silks, Silk Dyes, Blendo, 20th Century Silk effects, Magical Knotting and Penetration effects, and many many more. They make ideal production items, compressing into a small place, and making a large colorful display when produced. Use them with your Silk Wonder Box, Mirror Box, Fold Flat Production Box, Change Bags, or other Production props and cabinets. We have produced several varieties in the past, and other varieties are also available.
We have just produced a range of superior quality silks in 6 colors (Red, Blue, Green, Yellow,  White, and Orange,) available in 5 different sizes from 6″ to 24″ as above, dyed in vibrant colors and custom hemmed, for magical use. A little more expensive than our regular production silks, but much better quality, and far more durable.
The smaller 6″, 9″ & 12″ silks come to you in packets of a dozen (2 each of 6 different colors), where as the 18″ and 24″ silks can be purchased by the piece, in colors of your choice.