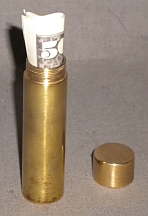 We have been making the classic Bill Tube for many years, and hope to continue producing this in the future.
Some performers feel the "classic" prop with a locking pin and padlock are a little outdated as magic props go today. We have therefore also introduced this slimmer, sleeker, streamlined model of the prop.
This model eliminates the push on cap with hole, and the locking pin and padlock. Instead there is a screw on cap with an extra long thread, which blends perfectly with the body of the Bill Tube, giving the closed Bill Tube the appearance of a solid brass rod. The extra long thread takes time to open, adding to the impact of the effect.
You can perform any and all of the effects with this that you would with a padlock type Bill Tube, as the secret and working are exactly the same.
This handsome prop, precision machined from Brass will a little care will last forever. Polish it occasionally, and handle it with care.
In case you are not familiar with the Bill Tube, here is the basic effect, and working.
A Bill or currency note is borrowed, and the owner asked to make a note of the number, and sign it, if he so desires.
The Bill is folded, and given to the owner to hold, wrapped in a Handkerchief. 
The performer now produces from his pocket a solid Brass Tube. The tube is also handed over to another spectator, or placed prominently on display.
The performer walks up to the spectator holding the Bill, and whips away the Handkerchief. The Bill has vanished. 
The spectator holding the tube is asked to open the tube. The spectator finds a Bill within the tube. He is asked to pull it out, and hand it over directly to the spectator who loaned you the Bill. He finds it is the same Bill and can confirm this by his signature, and the serial numbers.
A careful examination of the Bill Tube will not reveal the ingenious working.
Supplied ready to use, with detailed instructions for other effects as well. Very clever mechanical prop.