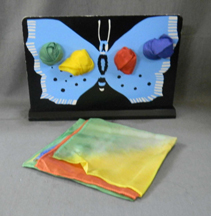 This was perhaps one of the most popular of Supreme products, and sets sell at fancy prices to magic collectors. We are delighted to have secured permission from Ian Adair, creator of the effect, and then partner of Supreme to reproduce this item.
It is a beautiful Magical creation, A trick wherein surprise follows surprise and colour and mystery are incorporated with a dash of comedy by-play. 
A cloth is removed from a stand, and there is a picture, on a plaque of a butterfly. Some of the colours on the Butterfly are made by four silk handkerchiefs, red, yellow, green and purple, projecting through four cut-outs in its wings. These four silks are removed and the denuded butterfly is covered with the small, unfeked cloth.
The four silks are vanished.
The cloth is removed from the Butterfly and there are the four silks back in position once more, and they are removed. 
The final surprise is when the four silks are tossed into the air and flutter down – no longer as separate silks, but as a beautiful rainbow, made up from the four different colours. 
We supply you with everything you need to work this effect right away, The Butterfly Stand that consists of a decorated plaque in a wooden base, all he required Silks and complete instructions by Ian Adair.