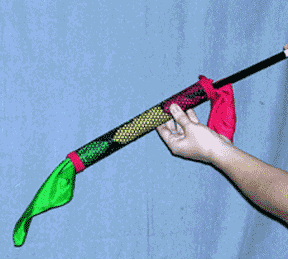 The performer displays an empty net tube which the audience can look right into. 
Three Silks – Red, yellow and green are pushed into the tube, clearly visible through the net front. The tube is tossed into the air, and when the "Silks are now removed, they have transformed into a flower spray in the same colors as the silks. The tube is obviously empty.
A simple transformation effect, very easy to do, this comes complete with tube, silks, flowers, and even the Magic Wand, at a very affordable low price.