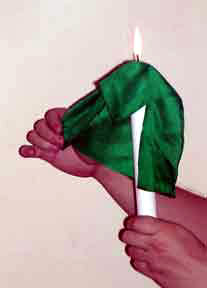 There have been many effects where a lit candle is passed through one or more silks criss-crossing in a tube.
In this classic effect, a silk passes through a candle flame, without harm, and without any type of cover.
The effect is made possible by the special candle supplied. This is a mechanical candle, the working of which will be obvious as soon as you handle it. We also supplied a suitable 12″ silk. You can use any other larger silk, or one of your favorite color. Complete with mechanical powder coated metal candle and silk, you can put this in your act right away.