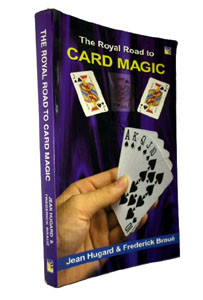 Jean Hugard and Frederick Braue authored this book that was originally published in 1951.
This soft cover, approximately 8-½ X 5-½ size 292-page book profusely illustrated with line drawings is a re-printed Indian edition.
This is a practical workbook on card conjuring. In three parts within twenty chapters, the authors explain various shuffles, flourishes, sleights and moves, routines and yes, tricks … over 75 tricks.The tricks are described in every chapter along with the necessary sleights etc. One does not have to look for certain pages to find out the necessary moves if he misses something.
The authors had long years of practical experience behind them in the field of card magic. They have given full and clear explanations, which will help the reader who knows nothing about card magic but with moderate amount of practice could be competent enough to delight and amaze the onlookers. Moreover, the material provided in the book will equip the serious students with effects to perform impromptu at informal occasions, at platform situations and even on stage.
This is the book we recommend to those students in card conjuring who desire to step beyond the areas of self-working, mechanical card magic. (INR 225.00)