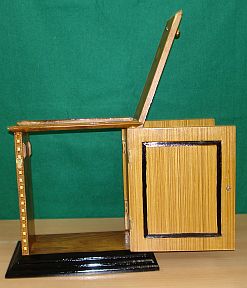 Production cabinets are versatile props – and most magicians have more than one in their collection. This is an "antique" production cabinet that can be shown empty in a most convincing manner, permitting the audience to look right through the cabinet with both doors and the top open. It will allow you to produce a very sizeable load of magician's production props.
It is hand crafted in teak and teak ply, and finished to resemble an antique cabinet – like an old clock case. Sturdily constructed to give you a lifetime of service.
The cabinet has a long "door" across the entire top, and regular doors across the entire front and back. At the start the cabinet rests on the table. It is turned all around so the audience can see there is nothing outside the cabinet.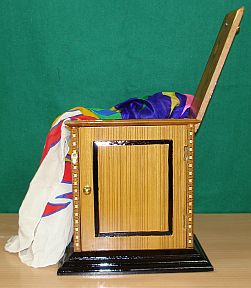 Lift up the knob on top to open the door on top. Then open out the front door. The audience can see the inside of the cabinet clearly empty. Finally open out the rear door and ausience can see right through the cabinet. Now close the rear door, then the front. Finally reach in from the opening on top and make your production. Silks, flowers, money, jewellery, and even a small live bird or two.
The cabinet measures approx. 8.5″ wide, and 9.5″ high. It is 4.75″ deep, with a base 7.25″ x 11″.
Collector quality prop, complete with instructions.