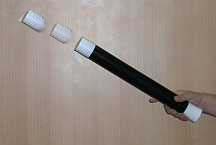 The Pop Out Wand is a comedy prop similar to the Break Away Wand, Swallowing Wand, Whirling Wand etc.
In effect the magician shows, and/or uses a Giant Wand some 18″ long and 2″ in diameter in his act. When he slaps the wand, one of the tips flies off into the air, as if shot from a pop gun.
The Wand works exactly like a Pop Gun, on air pressure.
When ever you want the cap to pop out, slap it smartly with your other hand and the cap will fly off, and shoot several feet away.
Not a magic trick, but a gag prop that can get you many laughs in your act, if you have the flair for this sort of presentation.