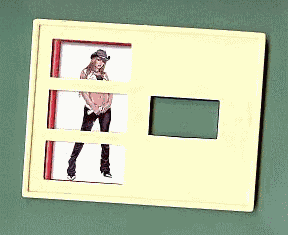 This is the same as the Zig Zag Card, but uses a picture of an attractive lady instead of a playing card.
In effect the performer displays a picture of a lady and a plastic frame with four cut out windows which the audience can see right through. The picture is placed in the frame, and apparently cut in three parts.
The center part is moved away, and you can see the three separate parts of the picture. The center part is slid back into place, and the complete picture tipped out of the frame, unharmed and completely intact.
This is one of the finest close up illusions, and comes to you at a very low affordable price. The frame measures 5.25″ wide, and 4″ high, allowing you to carry it in your pocket.
Easy to do, very modestly priced, this is a good pocket effect for your own use, or as a gift. Special bulk discounts available.