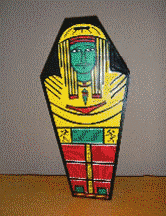 We are pleased to revive this popular item by the late Ken de Courcy (editor of Supreme's MAGIGRAM magazine) originally marketed by Supreme Magic Company of England in 1976 . We have modified the art work for the nude Mummy a bit, to make it presentable to a larger audience, (this is not a Kid show item), and the effect is best described by the original Supreme advertisement for the item, reproduced below.
****************
A SUPREME EXCLUSIVE !
KEN de COURCY's OH, MUMMY !
Here's a funny item which is sure to get a smile in your show.
A cut out Mummy Case is shown, the door is opened to show a picture of a Mummy swathed in bandages.
With the door closed again, the performer pulls an end of a white ribbon from a cut out in the Mummy Case, and continues until he has produced many yards of bandage.
When the door is opened, the Mummy is nude .. and either cold or modest : A saucy picture to get a real belly laugh.
This is the trick which was such a hit in the Ken de Courcy American tour.
Saucy, easy to work. Always ready.
****************
We supply the props, as colorfully produced as the original, with the yards of ribbon, and our revised instructions, that make the set-up very fast and easy. The Mummy Case is 15″ high, making this suitable for a large audience.