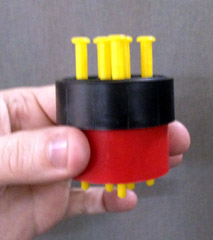 A miniature version of the hugely popular Sword Basket Illusion where the magician passes a number of swords through a lady in a box or basket.
In effect you display a small round Box (the basket), a Lid, and 8 Plastic Nails (Swords) & a white plastic Disc or Coin (the Lady)
You tell your audience this a pocket version of the famous Sword Basket. You show the disk or borrow a coin (the size of a US Half Dollar, an old Indian Rupee, Or old British Penny) and place this in the box, and place the lid on. One by one you push the 8 nails through the holes in the lid and show them emerging from the bottom of the box. Then you withdraw the nails, and open the box to show the coin is unharmed.
An excellent penetration effect at a very low price. Comes complete with all required apparatus and illustrated instructions.