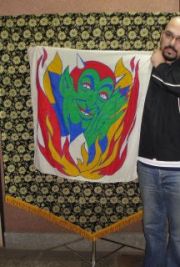 This is not a magic prop, and it will not perform a Magic routine or effect for you. 
But it is an invaluable accessory to a performing magician, performing under various "impromptu" conditions, as a backdrop to cover awkward angles, as a point of focus and attention, and to add a professional touch to your act, when performing under surrounded "floor" conditions.
The outfit comprises of a polished aluminum folding stand with a tripod base (like a music stand) that collapses to a slim 2.5′ cylinder, and extends (adjustable) from 2.5′ to over 6′ high, and a roll-up "banner" that fits on the stand, and stretches over 4′ in width and over 4′ depth, providing you with ample cover and an attractive background.  
The photo shows a person 5'10" tall, holding a 36″ silk, with ample cover all around.
The banner is reversible – you can use the all black reverse side if you want to, or the gold embroidered decorated side, for a more glitzy and colorful backdrop. It is completely opaque.
Every thing packs small, ( a cylinder about 2.5′ ) and can be set up in less than a minute. A very valuable accessory for the professional performer, who needs to work under very diverse performing conditions.