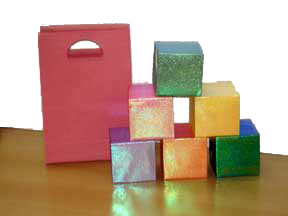 There are other productions from an empty bag. This one is different, with great visual appeal, in addition to the "magical impact" of the production.
The performer displays an empty bag. The audience can look right into this, and see it is completely empty..
Reaching into the bag he produces a solid block in glitter color. 
Then another block pops out of the bag, and another … a total of six blocks in six different glitter colors. 
All the blocks appear solid, and can be displayed on all six sides. They are constructed to instantly pop up when released, you have nothing to do – not even lift them up. And they retain their rigid shape, making for a very impressive production from an empty bag.
You get everything required, – the paper bag, (gimmicked so you can show it empty inside), and the six special production blocks with instructions.