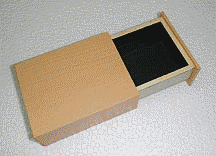 This is a handy box which can be made to appear full of items that will fit in it, or entirely empty as the magician wishes.
This compact model of the box was specially designed to hold a full deck of Cards in their case, or a 20s Cigarette packet, though you could use it with many item(s) you can fit I the box, such as silks, wads of paper money, sponge items, spring flowers etc.
The item is very similar to the classic Drawer Box which is very popular production item. This model has a special mechanical locking arrangement, so that you can handle it very freely, and show it all around, or even have a spectator open and close it during the routine, without exposing the secret.
Box is made of ply and solid wood, and attractively finished in a natural wood finish. Comes complete with instructions.