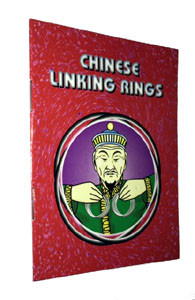 The Linking Rings or Chinese Linking Rings is one of the finest effects. Several Magicians made their reputation with this classic piece of Magic.
This neatly printed booklet 4″ x 5.5″,  32 pages, illustrated with 37 clear line drawings covers description of the apparatus, requisite moves, and routines.
The moves include Counts (Drop Count, Wrist Count and Odin Count), Linking Moves (Standard Link, Crash Link, Throw Link and Drop link), Un-Linking Moves (Standard Un-linking, Throw Un-linking, and Spinning Un-linking) plus various Designs with Rings (Globe, Swing, Carry Bag, HourGlass, Gyroscope, Ladies Bag, Chair and Blooming Flower).
In addition there are routines using 8 Rings, 6 Rings, 4 Rings, 3 Rings plus additional recommended reference for reading for those who wants to know more. Once one master the moves and learns the routines, he will be able to design his own routines. (INR 15.00)