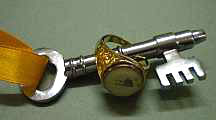 We have now remade this precision item after a long time. 
Effect :- A borrowed finger ring penetrates onto an examined safe deposit locker  key. The Key with ring on is handed over to the audience -they can't get it off, till you do it for them.
An incredible solid through solid penetration.
Special Features: This is not a puzzle, and not performed out of audience view. The penetration is performed in an instant, right under their noses. The specially designed Key enables you to use it with virtually any type of finger ring, from a ladies engagement or wedding ring to a large gents ring. Any finger ring from 18mm in dia (that's a very small ladies' ring) upto 25mm in dia (a very large gent's ring) can be used, including signet rings, with bands upto 5mm wide!
The Key is a precision engineered prop, which is ingeniously gimmicked. You can hand over the Key, without substitution, for the audience to handle.
Nothing is added or taken away from the Key, at any time, – it is entirely self contained. There are no special moves or sleights, – anyone can present this with stunning impact, after only a few handling trials.