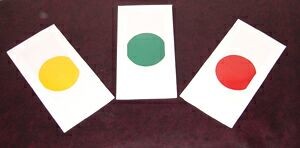 This is an utility prop you can use in various ways. You can perform some good mental effects with this, using one, two or all three envelopes.
You get three window envelopes. On the back of these envelopes are printed spots of different colors, – Red, Green and Yellow. Inside each window envelope is a smaller envelope, with a colored dot to match that on the window envelope, and identify it. The inner envelopes are clearly visible at all times through the large windows.
The contents of the smaller envelope are under your control. Make items appear, vanish or change. For example a paper slip placed in the envelope can transform into a currency note. Or a note can be made to vanish, or appear. Use two envelopes, to perform a passe passe effect. Or use all three, for a Just Chance type effect. For example, two spectators place a currency note in two envelopes. You place a piece of blank paper in the third. After a bit of by-play, the spectators open their envelopes, to find half a piece of blank paper each. And your envelope has both the currency bills. 
The possibilities of routines with the 3 switching devices are limited by your imagination, though our instructions give you several ideas to start you off. The different colored spots enable you to positively identify each device, for audience participation routines involving two or three envelopes. The props are made in  art board (not paper), and screened in brilliant colors, to give you an attractive and utility item for a variety of effects.