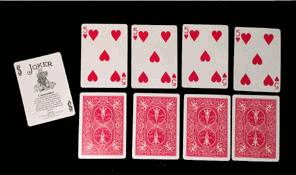 The effect is unbelievable. A classic of Close-up Card Magic.
It uses nine cards, eight of the cards are identical, say 5 of Hearts. And the last card is an 'odd' or Wild Card, The Joker.
One at a time the Wild Card, when placed with the 5H card, changes them to the "odd" card, the Joker. You are left with nine Joker cards at the end. (Or vice versa)
Supplied beautifully packaged with original bicycle cards and instructions that clearly explain everything.