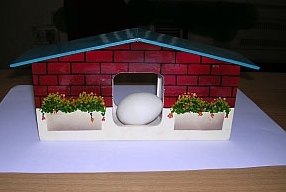 Effect : Performer displays a small house shaped box, which he calls his Instant Magic Incubator.
There is an empty space in the middle of the box, which the audience can see right through. He places an egg in the middle, in the empty space.
He covers the incubator with a silk. Casting his magical spell, he uncovers the silk, and displays the egg has transformed to a cute live chick.
Although designed for, and most effective with a live chick, you could also use it with an imitation egg, and an imitation chick. There are some nice animated toy chicks that walk or lay eggs when pressed, and could make an effective production. There is even a small toy duckling that waddles, which will fit in the box.
As this is basically a changing prop, you could use it for other changes. You could also use it to vanish or produce items. The following are some ideas you can use with this prop ..
Change one fruit or vegetable to another … lemons, tomatoes, pears, potatoes, … there are many that will fit into the box. Say you don't like one, and change it to something you like.
Show frame empty. Vanish a sponge ball, and have it re-appear in frame. You can produce a sponge ball much larger than the frame, so that it bulges out.
Grow a fruit, or vegetable. Put in a small one, and have it "grow" in the "Green House" into a much larger one.
A cute climax for the Egg Bag routine. Vanish egg at end of routine, and uncover draped box to reveal it has appeared there. Then cover box for a moment, and undrape to reveal chick. 
Our instructions give you many other suggestions for use.
Sturdily made in wood, attractively screened and painted, the incubator measures 9.5″ wide  (11.25″ at the projecting roof) x 5″ high. Limited stock, – please order early if interested.