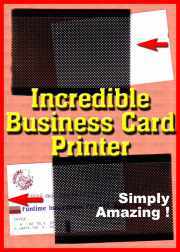 The Amazing Card Changing Sleeve advertised above is now a very "popular" prop, available in several versions from several dealers. We have modified this model for a much wider use – even performers who never do card tricks will use this. Our original, so get it fast, and you have something exclusive, before it is ripped off, like dozens of other items we have produced. 
This is an extremely effective way of introducing yourself as a magical performer. No invitation required to perform a trick ! Use it any time – and you are guaranteed to impress your audience with your "magical powers".
You place a blank business card in a clear sleeve, showing it clearly on both sides. Instantly, and right under their nose without any cover or false move the card is printed into your Business Card. The card is removed from the sleeve and handed out. The sleeve is shown empty once again.
You can also use this sleeve to produce the image of a selected playing card on a blank playing card.
We supply you the very special Sleeve responsible for this miracle effect along with a playing card to enable you to practice the effect. You would use it with your own Business Card, or any regular Bridge size playing card for a playing card effect. 
Complete with the Incredible "Printer" Sleeve and performing instructions. And the price is a pleasant surprise.