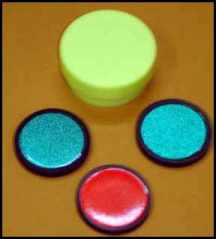 From Magician Rajat comes this amazing mechanical Pocket trick – simple to perform, and extremely impressive in performance.
You display a box with lid, and three color spotted poker chips. The box is the "Prison". The Red chip is Houdini. The two Green Chips are the guards. 
The red chip is placed between the two green chips, and locked in the box. With a tap on the cover, this "HOUDINI DISK" penetrates through the green chip and box, and drops out into the spectators hand.
Although the trick is mechanical, and almost everything is gimmicked, you can let the audience handle it all at the finish. 
We recommend this highly if you like self working (almost) mechanical pocket effects. It comes complete with all the required chips and gimmicks and Rajat's own instructions. And at the price this mechanical pocket effect, hand finished by Rajat is good value for your money.