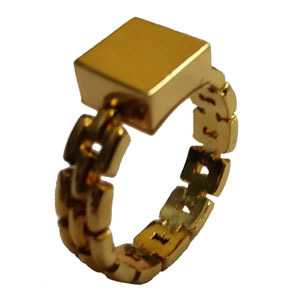 A Funtime Magic Original 
As the name suggests, this is a combination of the Himber Ring, and the Kling Ring. It can be used to perform any of the effects you could perform with either of these rings.
The Himber Ring is a ring that can be secretly opened and closed, permitting you to link this with other borrowed finger rings. Although a "small" close-up effect, many famous performers have used it as a feature effect in their stage performances for large audiences.
The Kling Ring is a ring with a magnet concealed in it. This ring has a small but powerful Neodymium magnet concealed in the Signet box of the ring.
This is a delicate prop, with a delicate mechanism. Please handle it with the same care you would a delicate piece of jewelry, and it will give you a lifetime of service.
The ring is hand crafted from a silver amalgam, plated in gold, and comes boxed with an 8 page booklet of instructions for it use and presentation. A quality product, and a valuable "accessory" for the close-up performer.