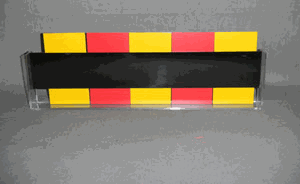 This is an intriguing number divination mystery, using colorful props, and suitable for presentation to a large audience. An excellent item for school shows.
The Performer displays 5 panels, with different numbers on each side of every panel. These are on display on a stand, which displays the panels upright, facing the audience. The stand is designed to completely conceal the numbers on the panels when placed in the stand.
The panels are removed, mixed, and reinserted in the stand by a spectator, as the performer looks away or turns around. Each panel can be placed either way to the front, and in any order. The panels are colored Red on one side and Yellow on the other, and they maybe be placed with either color facing front, resulting in many different possible number combinations.
When the spectator has finished placing all the panels in the stand, (so that the performer can not know what number is on their faces), the performer turns around, and instantly calls out the total of the numbers on the panel facing the audience. A spectator may himself remove the panels and the audience can add the numbers on each (a simple addition) and the performers prediction is found to be absolutely correct.
The trick can be repeated for different combinations and different totals. A very simple trick supplied complete with necessary apparatus and instructions.