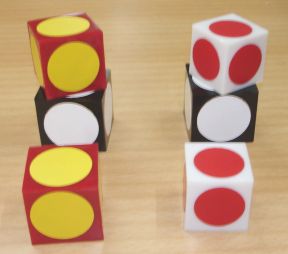 Effect :- The performer displays a red block, which is covered by a black cover. A red block is placed on top of the cover, to mark the cover with the red block. 
Along side is a white block,  covered by  another black cover, with a white marker block on top.
The performer now exchanges the red and white marker blocks on top of the covers. When the covers are lifted, the blocks under them are seen to have changed places, with the red block under the red marker block, and the white under the white marker block.
The effect can be repeated as often as you like. The props supplied make this completely automatic in working, so that the blocks under the cover literally follow the marker blocks on top.
We supply you everything required to perform this right away, with complete instructions.