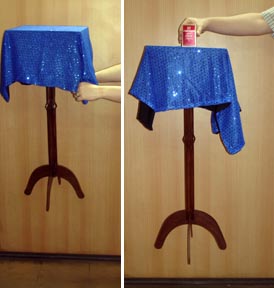 Effect : This is an ordinary wooden table – one on which you display your props, or perform some of your magic routines.
Then the table magically floats (like the classic Zombie Ball) – up and several feet off the ground. The performer grabs the table cloth, trying to coax it down, and the table floats with a life of its own, in all directions. Have it dance to music, or just float all around the stage or platform.
As an alternative presentation, you can place something on the table, like a box, or a candlestick, (or even a packet of cigarettes for a comedy routine). When you try to lift away the object, the table magically clings to the object, rising with it.
We also provide you with another gimmick, so that you can make the table cling to your fingertips, rising when you raise your hand placed on the table.
The floating table is made with light ply, and assembles and dismantles in 5 pieces in less than 2 minutes. It comes complete with table cloth, the required gimmicks, and color photo illustrated instructions in a custom made carrying case. There are several models of this effect currently available, and we offer you our model, with several refinements of our own, to bring you a prop you will use in your act.