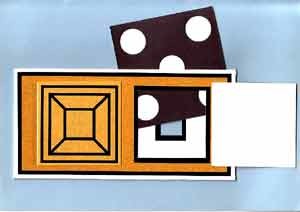 This is a flat (two dimension) model inspired by the classic Sucker Die Box effect. This model occupies almost no space in you bag of props, produces a similar sucker effect for a similar size audience, and costs a small fraction of the price of the original (wood or plastic)die box. "Box" measures 8.5″ x 4.25″ and the "die" 4″ square – large enough for any platform or school show use !
Introduce your apparatus stating it is your model of the famous Die Box trick, – but your set got squashed while being handled as cargo by XYZ Airlines, or whatever excuse you wish to offer !
Open both the doors to display the die in one compartment completely filling it, with the other compartment empty. A hole at the back allows the audience to see right through each compartment. Poke your finger through the hole in the empty compartment from the rear, as you say you have a die in one compartment, and nothing in the other compartment.
Remove the Die from the compartment, close both the doors of the Die Box,.and place the Flat Die into the box from the top.
The presentation now follows the lines of the standard die box routine. Make an obvious tilting or shaking motion of the box to your left, then open the right door to show die has vanished. Poke your finger through the hole at the back.
When some body comments it has gone to the left, (or pretend to hear a comment to this effect), tilt the box to the right, and open the door on the left. Repeat this as often as your audience will tolerate, then open both doors to show die has completely vanished.
Retrieve the die from some place else, show it freely on both sides, and replace it in the box and collect your applause! With a little presentation effort, this can give you all the entertainment of the original classic effect.
Screened to simulate a Die Box on quality board. Supplied complete and ready to work, with full instructions.