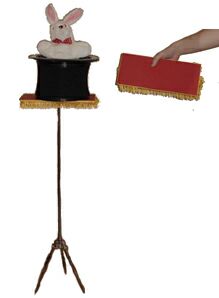 The performer produces a working table from "thin air", or from behind a foulard etc. Or he has a small board in his hand, which instantly changes into a working table. Designed similar to the Walsh Producrion Tables which are no longer available.
The complete table, which is almost 3 feet high instantly springs into a view, with metal stand and a working table top with tassels. Unlike other similar tables which tend to wobble, this provides a very usable surface, which will hold almost any magician's props you can fit on the working surface. 
You are supplied the table ready to use.