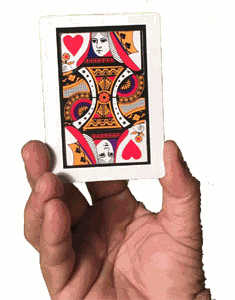 This is a mechanical card that changes from the Queen of Hearts to the King of Spades in a flash. Just shake the card to effect the change. You can use it as a prediction, showing the wrong card, then having it change to the correct one with a shake.
You could also use two of the cards, for a Passe Passe type effect, or a two Card Monte. Have the cards change places.
Or use three cards, resting upright against glass tumblers for a Find the Queen effect. 
Get one or more cards, and you will find a use for them in your close-up act.