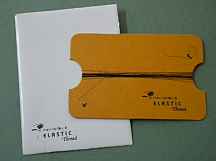 Invisible thread is one of the most potent gimmicks in the close-up miracle workers arsenal (with many of the routines possible with this equally suited to a much larger audience).
A recent introduction to this is the elastic invisible thread, which stretched to 5 times or more its original length. Used for making IT Loops, or for effects that take advantage of the stretch feature, like a Hummer Card, that rotates right around you or some uncanny levitations and animations.
You can make your own IT Loops with this, which would cost you a fraction of the cost of IT professional loops available from the market. You could make these in a size to suit your specific requirement. We give you the basic method for making these with the thread supplied. 
This thread is dyed black, (not white like some other brands of Elastic IT onthe market) and reflects less light, making it invisible when stretched, right under your nose. It is also very strong – we tested this to levitate an object weighing 40 gms. which it did easily, and which is much more than the usual object used with this thread. A heavy metal pen weighs less than 20 gms. A large wedding ring weighs  6 to 10 gms. 
We have obtained stocks against several requests from our customers for this type of IT. We supply it with basic instructions to make your own loops, and the type of effects you can perform.No detailed routines are supplied (to enable us to keep the price very low). Complete DVDs and books have been produced on the magic possible with this. Not for casual dabblers – but for serious performer who knows what he or she wants to do with this.