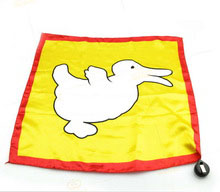 A new and different production silk, with a novel touch of Magic. The performer reaches into his empty hat, and says he will produce a rabbit. But he only produces a silk, which when opened displays a picture of a Duck, and not a rabbit. 
Surprised, the performer shakes the silk, and the picture of the duck has changed to a rabbit ! The change is magical, you just shake the silk, and it has changed to show the Rabbit, even if your audience realizes it is the same picture, turned around !
With art work specially done by Tony Dunn, Art director of the famous Linking Ring Magazine, this is a production silk that has the extra touch of magic, that your audience will remember, long after they have forgotten all the other flowers and silks and baubles. Use it from any production prop.
This model of the item uses a reel (supplied), and does not require folding the silk, as in our earlier model, which is also available.